Oh my, here was a custom bear order that could reach down into the very depths of my girlyness. Dandi Creations hosted an auction in benefit of a breast cancer foundation and I volunteered a Jenny Bear for the cause.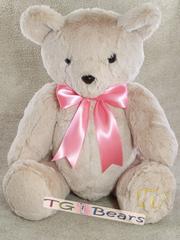 And Jenny Bear raised funds for the event. Tracy, the winner, contacted me as she needed a second bear. One of her daughters is getting married and her two granddaughters were to be flower girls. She wanted the bears as favors for the girls. So the drawingboard came out and we discussed colors and accessories. Wedding colors are ivory, brown and sunflower yellow.

We opted for cappuccino bears. They wear brown headbands with a yellow sunflower at ear level. An ivory and brown whimsy ribbon scarf completes the outfit.

And of course flower girls have flower baskets!
Tracy was very happy with them, leaving a sweet review of them.
---
---