What is the TG Bear to a Child with Epilepsy Support Group?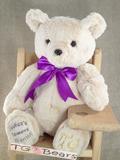 The TG Bear to a Child with Epilepsy Support Group was originally formed as a collaboration between TG Bears Inc. and Angels4Epilepsy Inc and is now managed by TG Bears Inc. only.
Our group members are all parents of children with epilepsy or are affiliated with the struggles of living with epilepsy in some other manner. Epilepsy knows no boundaries. It affects any age, any culture and often brings many other issues along with it.
Living in a world that does not make space for those that are challenged in some manner is extremely difficult for the person affected and also their loved ones. TG Bears Inc. is committed to helping whereever possible. The TG Bear to a Child with Epilepsy Support Group is a platform where parents of children suffering with epilepsy actively provide help and support to each other and are able to share experiences. It has grown to be an online "family", rather than just a group.

What do we do?
Everyone knows Hernando. He has been a blessing to a number of children that have had to endure testing and hospital stays because of their fight with epilepsy. However, even a bear needs to retire after a hard run of lending support. While Hernando has been retired, Theodore has taken up the baton and will continue to provide support to the children of the group.
How do we do it?
To be able to continue this mission, we need help as not all group members are able to contribute. We intend not to exclude any child from the program and thus any assistance you can provide to keep this going would be much appreciated. TG Bears matches every dollar contributed to this program with 71 cents.
Please consider making a contribution to keep creating happy faces as those on this page. You can do so through the button below with the payment forms depicted or 
contact me
if you need any more information.
Thank you

Note: The TG Bear to a Child with Epilepsy Support Group is a community that is maintained and run out of a kind support for our fellow man. Contributions are made to provide comfort to sick children and are not tax deductible.