What is TG Bears Inc. all about?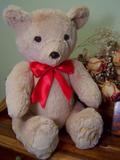 Yes, I love teddy bears. Who does not, right? And that is what TG Bears Inc. is all about – handmade custom teddy bears. They are made of the softest minky-type fur and I will personalize your bear or even make a custom order. 

Why did I start TG Bears Inc? I needed a job and the job market did not come to the plate. So, I made my own. Today I am glad I did. I enjoy working for myself and the smiles and happy reports that I get from customers is part of the return in itself. From its very humble beginnings TG Bears Inc. has grown to a small business that is very involved in the community through charitable outreaches.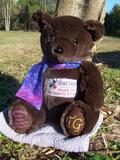 I also make mascot bears for
charities
and then donate a part of the proceeds to the relevant foundation/organization. I also am the co-founder of the Facebook group
TG Bear to a Child with Epilepsy Support Group
. In this group we provide a platform for parents of children with epilepsy to support each other and we send a handmade epilepsy awareness teddy bear to children of members that are being hospitalized for a procedure relating to their epilepsy.
My mission is thus twofold. Send teddy bears that have been handcrafted in the USA for the customer themselves with love and also support and bring awareness for causes in our society. The epilepsy cause is close to my heart, but I have also made bears to promote Intracranial Hypertension Awareness and Childhood Cancer.
I am excited about the future of TG Bears Inc. They have been sent all over the world and down the street. Even some well known celebrities like
Jessica Alba
and
Hilary Duff
have TG Bears. The latest two to get TG Bears are Melissa Rycroft and Tony Dovolani who won the All-Star season of Dancing with the Stars.