So during the course of a giveaway on my Facebook page last year, Jean of Rotem Studio won herself a Theodore Bear. She wrote me a wonderful testimonial that I would like to share here with you. Enjoy
-----------------------------
I know bears.

Not the kind one goes to Alaska for to watch catching salmon.

The quiet bears. The friendly bears.

The stuffed, plush bears.

I never set out to collect bears but somehow, over the past twenty-plus years, the bear population in my home has demonstrated a steady and worrison upward incline. Many are a popular collector's line of bears modeling anything from sweaters to overalls, and even one hooded bunny costume, as well as bear-naked bears. A cat or two snuck in with them.

There are 2 (licensed) Paddington bears, one from the iconic train station itself. There is a bear wearing a "Nisei Week" t-shirt, another in a tee displaying art by a painter friend, and a bear in a military uniform. There is a pilot bear with a scarf, and a bear in fishing-or-safari gear.

I know. It's kind of em-bear-rassing.

But look at it this way—I never had a teddy bear as a child. Really.

I had a rubber squeaky bear, but not a fuzzy, huggy one. So cut me bear-eake.

But at any rate, a number a years ago I reached my beareaking point and called for a moratorium on bears. Or so I thought.

Then came Theodore.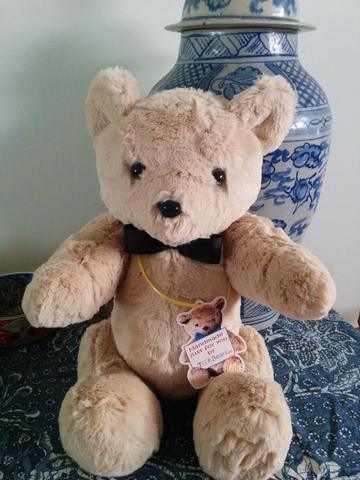 Theodore came my way when I entered a contest to win a bear from TG Bears. (Yes, I won a contest!)

A bear in a class of his own, Theodore is a beautifully hand-made, indeed bespoke, classic light brown bear with jointed arms and legs, a proper pot belly, a bow tie, and the softest (faux, of course) fur ever to envelope a stuffed animal. TG Bears' owner, Monica Collins, is the artist who creates bears like Theodore and his multi-hued ursine family, and one can feel the love she pours into each fluffy companion to pass on to its recipient.

And what a family Theodore has! At TG Bears there are girl bears and boy bears, pink, purple, brown, blue and white bears. There are bears that celebrate joy, as well as bears to encourage and uplift those, especially children, who may be suffering from an illness, and "ribbon" or logo bears. Every one of these bears bears a name of its own but can also be personalized with the recipient's own name.

I consider myself very lucky to have Theodore in my life, and I don't think one needs a special occasion or the unfortunate circumstance of an ailment to visit someone you love bearing a bear, nor even to embeark on ones own bear collection, but if for whatever reason you've been hunting for that very special bear, I encourage you to check out TG Bears.

You'll be beary glad you did.
(unedited)
---
---