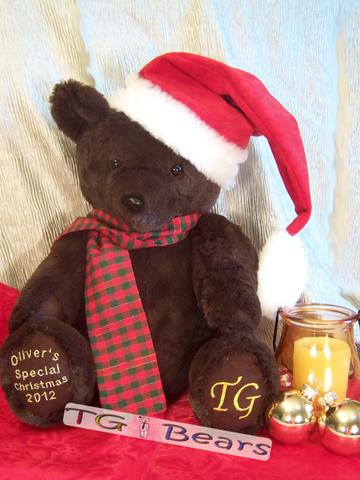 Noel 2012 | Handmade Christmas bear with a scarf and Santa Hat
Please meet Noel in his holiday outfit for 2012.
Noel is a 16 inch handmade teddy bear made of the softest and cuddliest minky fur that you can imagine. You will not want to let go of him once you have cuddled him. He has jointed arms and legs. His joints, eyes and nose are all safety items.
Noel boasts a great Christmas plaid scarf and a very bold Santa Hat* that is a loose item and allows you to choose how you would like him to wear it. For this picture, he opted to wear it off center. He carries a personal message on his right foot. Once you have placed the order, I will contact you by email to get the message you want on his foot for your bear.
As with all other TG Bears, he proudly wears his heritage on his left foot and comes with a name tag that is signed and dated. If you would like Noel to wear a different fur coat for you, please
contact me
to discuss.
---
We Also Recommend
---