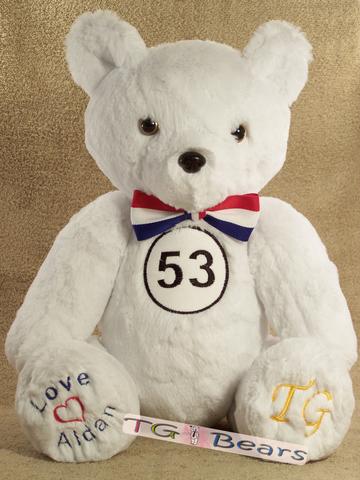 Aidan | Custom teddy bear in memory of Aidan Lear
Aidan is a special boy who lost his battle to Neuro Degenerative Disorder (NOS) in September 2014. Aidan Bear was created in his honor to continue sharing his love with others. Aidan Bear will be on a special mission during the 2015 holiday season by being given to children stuck in hospital and not being able to be home with their families - a project Aidan's mother Rachel has embarked upon.
Aidan Bear is made of the softest white fur. He carries the 53 on his chest that reminds of Aidan's favorite character. The red, white and blue bow-tie and red and blue lettering on the foot bring in the bright striped coloring. Like all TG Bears, the bear is completely metal-free and his nose, eyes and joints are safety items.
For every five of these bears adopted, TG Bears will donate one bear to Rachel's holiday season delivery project.
---
We Also Recommend
---