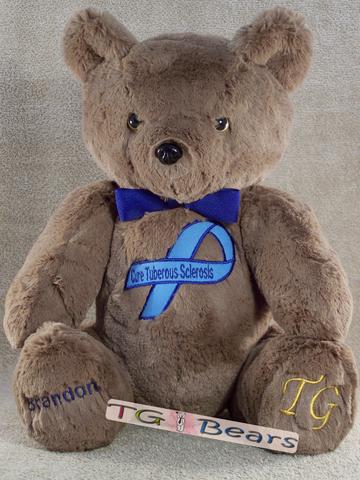 Santiago | Handmade teddy bear to raise awareness for Tuberous Sclerosis
Santiago Bear has joined the TG Bears family to raise awareness for Tuberous Sclerosis. He wears the blue awareness ribbon on his chest and states his message clearly also.
As all TG Bears, Santiago Bear is 16 inches tall. He has jointed arms and legs and his joints, nose and eyes are all safety items and is metal free. His fur is extremely soft, with the luscious feel that you expect from a TG Bear. He wears a blue bow-tie and can be personalized with whatever name you like on the right foot.
Tuberous Sclerosis Complex is a genetic disorder that causes non-malignant tumors to form in many different organs. Finding the cure and treatment for TSC could provide great advances in a cure for autism, cancer and epilepsy. 18% of the proceeds of a sale of Santiago Bear is donated to the
Tuberous Sclerosis Alliance
to help with the finding of a cure for this debilitating condition.
---
We Also Recommend
---