This week's "Introduce a Business" feature spotlights Kanine Knits. Peggy is the lady behind this interesting business. When entering her site, I could not believe the talent that I saw.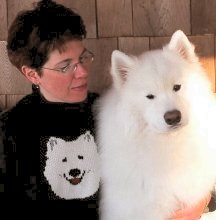 How about this sweater that has the dog on it? Peggy designs knitting patterns that focus on dog breeds and more recently on cats too. She has created over 100 knitting patterns in her Portraits of Dogs Collection.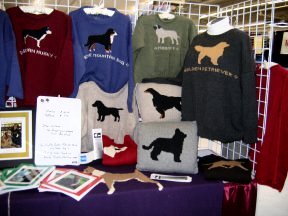 Peggy's patterns are divided into books, of which she has done seven, each book dealing with a specific breed. The book gives the user information about the dog and what they do and then transforms these activities into knitting charts. So if you are a knitter and you love dogs, here is just the ideal thing for you (or of course your friend).
Nothing says anything better about someone than a video. I have included a short video here of Peggy's TV appearance on Pet Talk. Enjoy!
You can connect with Peggy at the links provided below. 
Website: http://www.kanineknits.com
Facebook: http://www.facebook.com/pages/Kanine-Knits-Books-Patterns/187193941325
Blog: http://kanineknits.blogspot.com/
Twitter: http://twitter.com/PeggyGaffney
Leave a Reply
You must be logged in to post a comment.